[Photo credit: Najmat Photography]

Alexandre Sacha Pavlata is a fifth-generation Czech circus artist, master aerialist and world-renowned circus teacher. He grew up with his traveling circus family in a wooden circus wagon which crisscrossed Europe and North Africa presenting their famous unicycle and trampoline act under big tops all over the globe. From horses to high wire and everything in between, Sacha has since performed nearly every kind of circus act you could imagine.




Sacha's circus heritage goes back 5 generations on both sides. His mother, Hungarian-born Anna Dubsky, came from a long line of Risley Act performers (the acrobatic foot juggling of people), and his father, Czech-born Karel Pavlata, descended from a family of aerialists known for their great physical strength and versatility in the air.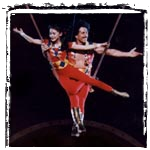 SACHA CREATED A BREATHTAKING DOUBLE CLOUD SWING ACT WITH NIECE AURELIA WALLENDA


In addition to performing in his family's act as a child, Sacha grew up helping put up and take down circus tents and master all the rigging under a Big Top. His technical expertise on the circus lot is legendary throughout the world, and he is known especially for his careful attention to safety. Sacha taught at the Conservatoire National du Cirque in Paris from 1975-1979 and performed as a member of the Bertini Unicycle Troupe with
Cirque Bouglione
, a French circus.

As a member of the New York City-based Big Apple Circus in the 1980s, Pavlata performed the Cloud Swing and a world class Russian Barre act. He also brought the Bertini family over from Europe to perform in the Big Apple Circus ring. While starring with the Big Apple Circus, he was master teacher for the New York School of Circus Arts. Sacha was also the technical mastermind behind putting up the Big Apple's Big Top tent in Lincoln Center.
Sacha has trained such stars as Andre Gower and Nicole Eggert for the 1987 television special "Circus of the Stars." Additionally, he consulted for Canada's Cirque du Soleil to train new acts for the 1986 season.
Sacha was featured in Paul Reuban's "Big Top Pee Wee" and was the circus arts instructor for the film. He trained the original Broadway cast of Barnum including Stacie Keach, as well as the cast of the national touring company, the Australian company, and Michael Crawford's London version of the show.
Sacha is a co-founder of Circus Flora and former director and founder of the
Circus Flora
Circus Arts School. He served as master circus teacher for
Center of Creative Arts
in St. Louis and residencies during Circus Flora's National tours. He teaches circus arts in the summer at
Sacha's St. Louis School of Circus Arts.
In 1998, Pavlata joined the
Flying Wallendas
to help create the famous seven-person pyramid on the high wire, an incredible feat for which they won the Silver Clown at the prestigious Monte Carlo
Festival du Cirque
in 2003. (Sacha is third man on base of pyramid pictured below).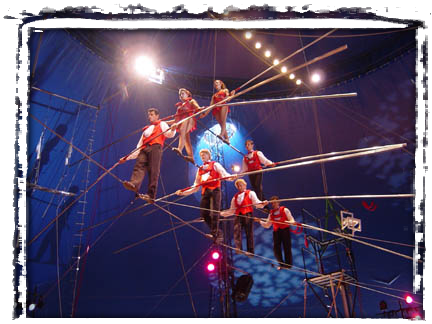 Together with his wife Melinda, Sacha co-counded
Cirque Passion
. They have delighted audiences at festivals, circuses galas and theatrical cabarets worldwide. When they are not on tour, they teach at their circus arts and belly dance studio,
Moody Street Circus
, in Waltham, MA.

Philippe Petit, renowned funambulist (high wire artist), writes of Alexandre Sacha Pavlata:
"I met Alexandre Pavlata in 1972 at the CIRQUE D'HIVER of Paris. He was helping some kids, backstage, to perfect their somersaults. I remember the gentle yet strong way he was directing their progresses, there was a lot of joy, but the results were prompt.

As I watch Sacha over the years, becoming slowly the "best circus teacher" (his well-earned reputation today), I realized that a very special chemistry was the secret of his so unique ability:

Sacha could offer in the classes he gave, the flavor of European Circus Tradition. He was born and raised in a traveling circus family, therefore was quickly acquainted with the constant training, the tough discipline, the respect for other artists, and the ability to understand rigging and to perform all aspects of circus profession.

But Sacha had to offer, blended to this heritage, the benefits of his own life and personality: he has traveled all over the world, therefore mastering several languages, he had coached numerous pupils of diverse ways of life, nationalities, age, goals and talents, had become a father, and had developed a sparkling intelligence at introducing the unfamiliar to a demanding craft, with surprising results.

It is the blending of the deeply traditional world of European circuses, with a modern international expertise that made the instruction of Master Teacher Pavlata so effective, and so rich, so outstanding.

A quick survey of the teaching of Circus Arts in America points to the lack of a figure that could lead the American performers of tomorrow into the track of progress and success: I believe Sacha Pavlata is the person that will devote his time and expertise to that wonderful task of keeping Circus Arts alive and flourishing in the United States, with the best rate of triumphs."
Lee Meriwether, actor, writes of Alexandre Sacha Pavlata:
"His skill at both professions (performing and teaching) is matched only by his patience, understanding and enthusiasm. […] He demonstrates the perfect educator: one who can teach because he not only has talent but because he desperately wants to share his gift with others."

"[Pavlata] is an outstanding teacher and a warm and generous person." –Stacy Keach, actor.
"…there are few in his field who encompass so wide a range of skills and whose merits as a teacher are so considerable. […] Mr. Pavlata taught me to walk the wire, also juggling, trampoline and teeterboard jumping, the Spanish Web, and unicycling. I consider his instruction as invaluable for my role [in the Australian production of "Barnum"] and freely admit that the security I enjoy in these areas is entirely due to him." –Reg Livermore, actor.
"I was highly impressed by his great abilities to teach so many circus skills so well: from teeterboard to unicycle to wire walking. I don't believe there are many in our country, or anywhere else for that matter, who can compare to his unique talents. […] He is truly a unique artist in the grand tradition and even more important: a fine human being." – Mike Burstyn, actor.
"In an extraordinarily capable way, [Mr. Pavlata] gave me instruction in wire walking, teeterboard, trampoline, unicycle, juggling – all the circus skills required for me to play the lead role in "Barnum." […] Mr. Pavlata is an exceptional instructor." – Jim Dale, actor.
"We have performed all over the world and with the best performers and circuses and seen many circus schools and we think that Mr. Pavlata is an outstanding teacher." – Armando and Tito Gaona of the "Flying Gaonas"
"Having to learn such skills as unicycling, juggling, walking a wire, jumping from a trampoline and certain trapeze work, I was given as my teacher, Mr. Alexandre Pavlata. I can honestly say that without his invaluable instruction and the great care that he took of me as a pupil, I would never have been able to achieve the success I've had in the above production" [London production of "Barnum"]. -- Michael Crawford, actor.


Melinda
Pavlata, Ph.D.
(aka
Melina of Daughters of Rhea
) is a second-generation belly dancer, circus aerialist, choreographer, teacher and writer. She graduated Phi Beta Kappa, magna cum laude from Wellesley College and was a Ben Franklin Fellow at the University of Pennsylvania where she received her PhD in French Literature. Melinda is co-founder of the
Daughters of Rhea
belly dance company with her sister Piper and the circus arts theatre
Cirque Passion
with her husband Alexandre Sacha Pavlata. Melinda and Sacha also run their family circus school in Waltham, MA,
Moody Street Circus
.

Born to a musician father and gypsy-artist belly dancer mother during the late 1960s Berkeley, California cultural revolution, Melinda exited the womb into a vibrant life of belly dance, folk music & circus rings including the Pickle Family Circus. She currently tours the U.S. as an aerialist and dancer with Cirque Passion &
Circus Flora
and performs various circus and dance acts including an elegant aerial hoop act, an acrobatic comedy ladder act, a sword-on-dagger balancing act and a trapeze duet with circus star partner
Alexandre Sacha Pavlata
at festivals and galas worldwide. Melinda teaches belly dance classes and specialized seminars in dance and circus arts throughout the world. She recently returned from a tour of Auckland, New Zealand and Taipei, Taiwan where she made her debut on the platform with the legendary
Flying Wallendas
.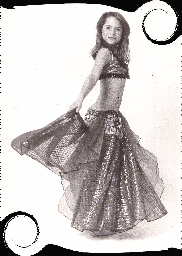 (PHOTO: MELINDA MELINA IN ATHENS, GREECE at AGE 9) Melinda first belly danced on stage with her mom at the age of 2 with a costume pinned to her diapers. When she was 6, Melinda's maverick mother, oriental dance trailblazer Rhea , left the U.S. to lead a permanent life of dance in Athens, Greece. Throughout her childhood Melina criss-crossed the Atlantic traveling between amicably divorced, loving & philosophical parents. She danced professionally alongside her mother and sister in the ancient city of Athens, Greece, then turned cartwheels in the circus ring on America's West Coast where her father Phil Marsh was bandleader and songwriter for the Pickle Family Circus. She continued her circus arts career as an adult, juggling, dancing with horses and humans and trapezing in and above the ring in Circus Flora.

Melinda's performances are lit from within by passion, fun, fire and grace. She is noted for her precision technique, fast finger cymbals, Dionysian gypsy leaps & spins and acrobatic agility. She balances a large bronze tray of lit candles on her head while belly dancing, performing deep backbends and articulate floor-work all the while. She also balances a sword on a dagger gripped in her jaws while dancing and going into splits, a fusion feat that she has taken around the world.



Melinda in a Circus Flora performance benefiting the Nantucket Atheneum. Photo by Jim Powers.

On the academic front, Melinda is a magna cum laude graduate of Wellesley College. She holds a D.E.S. from the University of Geneva and, as a Ben Franklin Fellow, earned a Ph.D. in Late Medieval French Literature from the University of Pennsylvania in 1997. Despite Ivory Tower accolades and a deep commitment to higher learning and scholarly excellence, Melinda experienced the powerful realization that her childhood arts of belly dancing and circus were more rewarding -- artistically, emotionally, spiritually and financially -- than teaching adjunct French classes in the university system, so she dedicated herself full-time to the free-lance performing, teaching and writing life.

Melinda's essays on growing up belly dancing and performing in the circus have been published in Brain, Child magazine, The Boston Globe, Habibi magazine and Middle Eastern Dance in New England. Her commentaries on the economics of belly dance have aired on NPR's Marketplace. Her dancing life has been profiled in The Boston Globe, the Boston Herald, the Boston Phoenix and Wellesley magazine. She has been featured on Channel 5's Chronicle and her performing and fundraising efforts for ALS Therapy Development Foundation have been written up in the New Yorker and the book His Brother's Keeper by Pulitzer prize winning author Jonathan Weiner. Melinda directs Moody Street Circus, a circus and belly dance school in Waltham, Massachusetts, with her husband Sacha.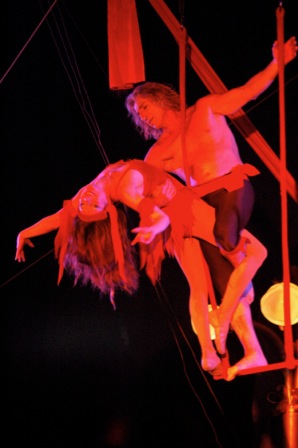 Melinda and Sacha Pavlata dance on trapeze 25 feet in the air at Circus Flora. Photo by Harald Boerstler.